A work commenced November 11, Anno Domini 2019.
Part II
Subject to Copyright. Completed text will cite references & bibliography .

Taming a Flame:
The second week of February 2020 brought cold and tempestuous weather to Britain, with the arrival of Storm Ciara. Just as we were preparing our family evening meal on Sunday February 9, the storm caused a power cut which left us and our fellow villagers without electricity for a few hours. So out came the candles and on went the coal fire to keep us out of total darkness and comfortably warm. I have always been somewhat in awe of fire and fetched my pocket glass to observe the cadence of its flames as they rose upwards into the chimney column. Because of their excellent close focus, my pocket glasses can entertain me as much indoors as they can out of doors!
As I drank up the wondrous display of light and colour of the coal fire from the comfort of my couch just a few metres away, my mind reflected on the importance of fire to the progress of humanity over the milennia. Nature not only produced the fuels but also the reactive gas(oxygen) needed for fires to occur. They are thus vital components of a life-bearing planet. With an atmosphere of 21 per cent oxygen, it is just right to allow fuels(reduced carbon substrates) to ignite and generate heat and light. If the percentage of oxygen in our atmopshere were only a little higher, spontaneous combustion would be much more common and many areas of the world would experience the devastating effects recently suffered by the people and biota of Australia. If the oxygen levels were lower, we would be unable to extract enough chemical energy from food to allow us to do much in the way of higher cognitive activities such as talking, calculating and praying.
The unique ability of humans to create and control fire is probably the single most important activity that launched the high technology societies in which we now live. In its basic form, it provided our hunter-gatherer ancestors with warmth and light on cold winter nights, which allowed us to work for longer and so boosting human productivity. Its intense heat protected us from hungry predators stalking us out in the dead of night. By cooking food, it killed germs that might have made us sick. The intense heat of the fire also helped break down hard-to-digest foods, enabling us to extract their nutrients more effectively. With fire, humans could greatly expand the varieties of territories we could eke out a living in. No longer were mountains and frozen northern wastelands verboten. Fire must have triggered the largest exodus of humans from the warm grasslands of East Africa/Middle East, where we probably first emerged from after our forced expulsion from the Garden of Eden.
Our innate capacity to experiment led to further discoveries allied to fire. We learned to 'cook' wood, yielding the amazing substance we now call charcoal, and with that we could generate temperatures far in excess of any normal fire(up to a 1000C in fact!). Charcoal is a wonderful reducing agent, empowering our distant ancestors with the ability to 'pull' metals from ores; copper, tin, lead and the creation of alloys like bronze. Once we understood how to use air to increase the temperature of furnaces, the extraction of iron finally became possible. The age of metallurgy was born and with it the great transformation of our lives. Without a knowledge of combustion, we would have no ceramics, no cars, buses or trains, no computers, iphones or tablets; no skyrockets to scale heaven.
And no glass to peer through!
My binoculars would not exist were it not for fire!
And yet there are still deeper things to ponder. Why, for instance, doesn't the coal I fetch from our bunker not react with the oxygen that surrounds it? Why, as creatures who 'slow burn' our food, do we not burst into flames? The answer is not all obvious, but pertains to the stability of both oxygen and coal at ordinary terrestrial temperatures. To burn coal, I must elevate its energy enough to initate the reaction, that is, by igniting the coal with a spark. And deep inside the countless trillions of cells that comprise the human body, enzymes(biological catalysts) lower the activation energy enough for our reduced foodstuffs to react with the molecular oxygen delivered to our body cells via myriad haemoglobin molecules.
But our ability to tame a flame is also related to our physical size. Think on it: if we were as small as a mouse say, we would be unable to get close enough to a fire to keep it fuelled without getting seriously injured. We'd also lack the muscle power to bring enough fuel in the form of chopped wood or dry brush to sustain the same fire. But humans are large enough(1.5 to 2m), and endowed with long enough arms with an ingenious manipulative tool at their ends(fingers with an opposable thumb), and with muscles powerful enough to chop and carry wood and lay it on a fire with outstreched arms, so keeping a safe distance from its desctructive flames.
And if we were significantly larger, gravitational forces would put much higher strains on our limbs. Carrying anything would much more difficult. Biophysicists have long known that simple power laws govern how body weight and limb strength scale with increasing height. Weight scales as the cube of height, but limb strength only scales with the square of height. That means that if we were much taller, strenuous physical activities would become far more challenging and even downright dangerous. Our limbs would shatter under their own weight and fumbling Prometheus falling into a fire would be a distinct possibility. The same principles explain why, upon faltering in a similar situation, a little child would emerge unscathed.
Can our physical size and the chemical and physical properties of our atmosphere that allow fires to be tamed and pressed into service by our kind be just coincidence? Is this just another serendipitous chain of events that happened to occur on our planet? Most certainly not! The godless naturalists can provide no credible answers to these questions.
They are, quite literally, left in the dark!
On the otherhand, a Creator God – an Unquenchable Fire – who designed this world for His human imagers to transform its natural resources seems far more probable to my mind.
Come, let us bow down in worship,
let us kneel before the Lord our Maker;
for he is our God and we are the people of his pasture,
the flock under his care.
Psalm 95:6-7
A Worthy Upgrade
During the first two weeks of January 2020, I had the opportunity to test drive a Leica Trinovid BCA 8 x 20 pocket glass kindly lent to me by a fellow villager. You can read about my opinions of that instrument here. As that report shows, I was very impressed with its wonderful optical and mechanical quality, but still a little concerned about how much use I would realsitically get out of a glass with very small, 20mm objective lenses. After some cogitation and deliberation, I decided that having two 8 x 25 units(the Opticron Aspheric LE WP and the Zeiss Terra ED) could not be justified, and so I gifted my Opticron to my next-door neighbour and invested in what is arguably one the highest quality achromatic(read non-ED) pocket glasses money can buy. Conducting some price comparisons across the internet, I managed to track down a UK-based seller offering the Trinovid for a very good price and I pulled the trigger.
The package arrived in perfect nick. What I received(see photo above) was a small box (actually double-boxed) with the Leica binocular safely packed inside a soft but rather oversized carry case, a small neckstrap, a comprehensive user manual, a test certificate and a booklet containing details of its 10-year warranty. The binocular had no eyepiece or objective lens caps though, and not even so much as a lens cloth thrown in for good measure!
My neighbour was thrilled to bits to accept the Opticron – a high quality pocket glass  – but I was equally thrilled to finally own arguably one the smallest, useful pocket glasses in existence. And, as my subsequent tests showed, the little Leica proved to be every bit as good as the unit I tested a few short weeks ago.
The little 8 x 20 Leica passed my flashflight tests with flying colours; it was just as clean and devoid of internal reflections as the earlier unit I investigated and delivered pin sharp images rich in contrast almost from edge to edge. There is no question that the quality control on these high-end pocket glasses is remarkably consistent. Optically, the Leica Trinovid BCA 8 x 20 is unquestionably a step up from the Opticron in terms of sharpness and contrast. Indeed, it is right up there with the Zeiss Terra 8 x 25, but in smaller, more elegant frame.
Once I had done my testing, I registered the instrument on Leica's sports optics website(the serial number being printed under the right eyecup).
As much of my work on telescopes over the last decade has involved raising amateur awareness of the wonderful properties of well-made achromatic refractors, I was thrilled to see that a top company like Leica was creating state-of-the-art miniature binoculars using traditional crown and flint glass. It showed me once and for all that excellent binocular optics doesn't necessarily require the use of low dispersion lenses. Rather, it's more to do with the precise figuring of the glass, as well as the application of state-of-the-art coatings to all optical surfaces that delivers this degree of excellence.
Both the Zeiss and the Leica are endowed with similar, high-quality optics, but one has ED Schott glass (the Zeiss) comprising one or more of its objective elements, while the Leica does not. But if I were to make an aperture stop for the Zeiss, reducing its effective aperture to 20mm, I would in effect have two instruments operating at 8 x 20 and with the same exit pupil(2.5mm). So the biggest difference between them would be the ED component and that would allow me to investigate claims made by a number of individuals over the years; specifically in relation to the brightness of the images served up by ED and non-ED optics. Is there any or much truth in this claim?
So I set to work performing some experiments in low light conditions, carefully comparing the images served up by both pocket glasses. I hope to report back on this in a later post.
A Better Case for a New Pocket Glass
The Leica binocular came with a soft padded case that was too large to fit it well. As you can see from the image below, the binocular has quite a bit of wiggle room inside the case and even when it's closed, dust can easily enter and accumulate over time. This is especially the case as the instrument was not supplied with endcaps to cover the ocular and objective lenses.
I felt that there must be a better solution to this storage problem. So, after taking into account the dimensions of the Leica glass, I searched online for a suitable replacement. Eventually, I came across a tiny clamshell case, similar to the one I received with the Zeiss Terra but smaller again. Here is what it looks like:
Here is another photo of the clamshell case compared with the original case for reference:
Costing just £6.99 inclusive of delivery, the clamshell case is shockproof and can be zip-closed.
To my relief the Leica binocular fitted the hard clamshell case perfectly and can even accommodate the binocular with the eyecups kept up for quicker deployment.
I was delighted with the new case as it affords far better protection of the optics and is even easier to store away owing to its very small dimensions. The image below shows its size in comparison to the Zeiss Terra case.
This should serve as an excellent storage case for the Leica pocket glass, protecting it from dust and moisture; an important issue since the instrument is splashproof but not waterproof.
Maybe I should contact Leica Sports Optics with this suggestion?
A Triumph for Aperture & Ergonomics!
Both the Leica Trinovid BCA 8 x 20 and the Zeiss Terra ED 8 x 25 are top-notch optical performers. But while the Leica is significantly more expensive than the Zeiss, it is the latter instrument that will prove to be the more versatile. Let's compare some of the specifications to see why this is the case.
The Zeiss has a larger aperture and bigger exit pupil, making it significantly more effective in low light conditions and for observing the night sky.  The larger exit pupil (3.125mm) also makes it considerably easier to line up your eye pupils rendering the views more immersive and comfortable. The Zeiss has a much larger focus wheel making it the easy choice in cold weather where gloves are worn. In addition, the Zeiss Terra is more pleasant to hold in cold weather since the thermal conduction of its polymer frame is much lower than the aluminium frame of the Leica, which always feels very cold to touch in cold winter conditions.
The Zeiss has better eye relief than the Leica(16mm and 14mm, respectively) making it easier for eye glass wearers to engage with the entire field of view.  What is more, the Zeiss Terra has a considerably larger frame than the Leica pocket glass rendering it much more stable to hold steady during prolonged field use. It also has a noticeably wider field of view than the Leica(6.8 degrees as opposed to 6.3 degrees). And while the build quality is definitely better in the little Leica pocket glass, the Zeiss is really not that far behind it.
I like to think that the ethos behind the design of the Zeiss Terra pocket glass is different to that of the Leica. The frame of the Zeiss is constructed from modern, strong but lightweight materials (fibreglass-reinforced polyamide). Indeed, it only weighs about 75 grams more than the Leica glass. In addition, the Zeiss is fully fogproof and waterproof, whilst the Leica is merely splashproof and so the former has a distinct edge over the latter when moving from cold, damp conditions to a wam, interior environment. One other issue is worth mentioning; the Leica Trinovid BCA is much more fiddly to deploy than the Zeiss. Have you ever tried getting your optimal interpupillary distance with the Leica when attempting to view the night sky in the dark? It can be downright frustrating to say the least! Not so with the Zeiss Terra!
Seen in this light, it's relatively easy to see why the Zeiss would be my first choice for standard field use. It just ticks so many more boxes than the Leica. Instead of feeling slightly anxious about using a small, ornate pocket glass, that anxiety all but disappears while using the Zeiss. That said, I can see where the Leica might be better suited than the Zeiss. Because the Leica is smaller and has less garish external colours than the Zeiss, it would probably be suited that little bit better to watching sports events from a distance or during an evening at the theatre. Its superior control of glare, internal reflections and less intense diffraction spikes when looking at bright artificial light sources also makes it eminently qualified for observing urban nightscapes and the occasional bout of 'take anywhere' tomfoolery.
All of this resonates well with experiences I have had when comparing smaller grab 'n' go refractors to my upgraded 130mm Newtonian reflector. Despite being less expensive than the refractors, the larger Newtonian proved the better choice time and time again, showing that you don't always get what you pay for! Just like the Zeiss Terra, the 130mm Newtonian simply represents more bang for your buck!
Does ED glass in a binocular result in brighter images?
Anyone who has followed my blogs over the years will know that I am sceptical of the claims made by fanatics of ED glass. I found much of their claims somewhat pretentious, including statements like, " Apos resolve binary stars better than traditional achromats and Newtonian reflectors." My own tests conducted both in the field and backed up by numerous historical references showed otherwise, which is one of the reasons I got rid of a whole raft of refractors with ED glass and replaced them with much more economical and powerful Newtonian reflectors. It's relatively easy to find comments about small, low- power ED binoculars where the following claim is  often made, "Binoculars containing ED glass give brighter images than those using traditional traditional crown and flint glass."
Now, I can certainly see why binocular objectives containing ED glass might focus the visible wavelengths of light they collect that little bit more tightly than those without such elements, which might give them an edge in terms of producing a slightly brighter image, but not so much to make the difference 'obvious' or 'immediately apparent.' What I did discover is that it is often the quality of coatings applied to the lenses and prisms that result in noticeable differences in image brightness, since more efficient coatings result in a greater light transmission to the eyes. My curiosity was further piqued when I came across this short youtube review, where the presenter noted that a binocular with so-called 'HD coatings'(read dielectric) produced a much more dramatic effect on image brightness than ED glass-containing instruments with the same specifications utilising non-dielectric(lower reflectivity) coatings.
So I wanted to test the claim that ED glass containing binoculars result in brighter images by conducting a series of observations using three binoculars; my Zeiss Terra ED 8 x 25(containing Schott ED glass and retailing for £270), my Leica Trinovid BCA 8 x 20(bought for £319) and my Celestron Trailseeker 8x 32 binocular(a £126 purchase). The latter instruments have high quality coatings but do not include ED glass containing objectives. The Celestron Trailseeker, in particular, has dielectric coatings applied to the roof prisms, creating the same 'HD images' to the Hawke Frontier X 8 x 32 model featured in the youtube clip linked to above. Surprisingly, Leica do not appear to publish details of the coatings they apply to their optical components and no data on its light transmission. The Zeiss Terra ED has a published light transmission of 88 per cent, which you can find on the Zeiss sports optics website.
In order to make the comparison as fair as possible, I made a 20mm aperture stop for the Terra, cutting its effective aperture from 25mm to 20mm but still retaining a magnification of 8x. I then compared the performance of this stopped down binocular to the Leica 8 x 20 (at full aperture) under low light conditions at dusk, when the light was rapidly fading in the evening. I conducted such tests on three separate occasions and, in each case, I elicited the opinions of a number of other individuals, my wife and a few of my students, to ensure that the results were consistent with my own. The target was a tree branch located about 50 yards in the distance. Consensus was reached. The stopped down Terra ED yielded a very slightly brighter image than the Leica 8 x 20.
But then I set up a similar set of experiments comparing a stopped down Celestron Trailseeker 8 x 32 with an effective aperture of 25mm with the Zeiss Terra ED 8 x 25 at full aperture(so also at 25mm). As with the first experiment, I canvassed the opinions of a couple of my students and my wife on the same target and under late, dusky lighting conditions. The results were very surprising! 3 out of four of us(including yours truly) reported the Celestron to have an edge in brightness over the Zeiss, while a fourth observer reported essentially equal brightnesses in both the stopped down Celestron and the Zeiss at full aperture.
Conclusions: The presence of ED glass did not result in any dramatic increases in brightness in both tests and when compared against the non-ED Celestron, the results seemed to indicate that it had, in fact, a slight edge over the ED containing Zeiss Terra. This further suggested that the Celestron Trailseeker had a light transmission of at least 88 per cent (and possibly a little bit higher), indicating that (as I suspected from other tests) it is indeed a highly efficient light gathering instrument. The results for the Leica Trinovid might also suggest that it may actually have a slightly lower transmission than the Zeiss(88 per cent), although I was unable to verify this in practice owing to the lack of published data on this Leica binocular.
I would warmly encourage other binocular enthusiasts to conduct similar experiments if they have the means. 
These experiments deepen my conviction that the marketing of ED glass in small, low-power binoculars like these, is yet another clever ploy to lure unsuspecting consumers to choose ED-containing binoculars over their non-ED counterparts based on misleading, if not false, claims. Don't be a gullible gayponaut; never buy a binocular based solely on the presence or absence of low dispersion (ED glass). Check out the other specifications that an instrument offers before parting with your hard earned cash, or try before you buy.
A Vibrant Star Cluster in Coma Berenices
February has proven to be a very unsettled month weatherwise. The UK has endured not one, but two big storms; Ciara and Denis, causing widespread flooding and general havoc with many communities across the country. But even amidst this grotty weather, the night sky still presents opportunities to observe it, if only for a few minutes at a time. And small binoculars are the ideal instrument to use in these very unsettled conditions, as they require no set up time. If a clear spell presents itself, I'm away out to have a gander.
By mid-February, the constellation of Leo approaches the meridian around local midnight; a sure sign that Spring is on the way. And over in the east, other signs of vernality present themselves, particularly brilliant orange Arcturus, which has cleared the murky horizon and is rising ever higher in the sky, together with the many interesting stars that collectively inhabit the constellation of Bootes. Looking over to the northeast, the bright summer star, Vega, is reassertting itself, while setting in the west, Orion and Taurus are now past their glory days.
This time of year, I like to visit a conspicuous patch of sky just east of the hind legs of the celestial Lion. Easy to pick up in the pocket glass, the famous Coma Cluster( Melotte 111) is no trouble to track down in a dark, moonless sky as a smattering of 4th and 5th magnitude stars concentrated into an area spanning some 5 degrees. Light pollution in towns and cities often drowns out even its brightest members, but from a dark country sky, the Coma Cluster is a fine naked eye sight, with at least half a dozen members being clearly visible to my unaided eyes. But the view greatly grows in majesty when examined with a small binocular. The 8 x 25 Terra frames the cluster very well, where the characteristic 'V' shaped stellar configuration makes it child's play to identify. Several dozen suns are easily discerned in this cluster in a pocket glass and up to 80 members can be pulled out of the dark with larger glasses.
Our guidebook on page 124 informs us that the centre of the cluster is estimated to be about 285 light years away, with its many main sequence stars estimated to have an age of approximately half a billion years. Such a vast amount of time is more than sufficient to prize its stars apart, which goes a long way to explaining why the cluster is so large and sprawling as seen in the pocket glass.  I made a sketch of the Coma Cluster last season using a larger binocular, which is reproduced below for interest.
Insights from an Old Book
My two pocket glasses serve up breathtaking images of the creation. In terms of absolute optical quality, millimetre for millimetre, I would give the edge to the Leica 8 x 20. Yet, in comparing and constrasting it to the Zeiss Terra, I have noted a couple of other ways in which the latter instrument pulls ahead of the smaller glass. The first thing is close focus distance; the Zeiss pocket binocular can focus on objects as close as 1.4m away, while the Leica fares considerable worse in this regard, at about 1.8m. This will likely prove important going forward, as I am fond of observing insects, rock formations, colourful mushrooms and other fungi, as well as flowers at very close range. The Zeiss' wider field of view will also make those close up views more compelling.
The second thing I have noticed is that, with the exception of strongly illuminated(read sunny) daylight scenes, the Zeiss pocket glass serves up noticeably brighter images. And this is true whether fooling around indoors, glassing out of doors on overcast days and in shaded areas like woods and glades. That the Zeiss was producing brighter images under a wide range of conditions surprised me a little until I happened to pick up an old book from my library, written by the late Leif J. Robinson, former editor of Sky & Telescope Magazine, entitled Outdoor Optics. On page 15 of that text, there is a graph(shown below) of pupil diameter versus age for dark-adapted eyes, as well as how the exit pupil behaves under so-called 'office illumination.'
The ambient brightness (luminance) is measured in units called Lux, where 1 Lux is 1 lumen per square metre. In this wikilink, it gives the luminance values for various illuminated conditions, including office lighting, which can be anywhere from 300 to 500 Lux. Heavily overcast days can have Lux values as low as 100 though, while observing under the canopy of trees in wooded environments might be expected to be even lower. Looking at the size of the exit pupil under office illumination for my age(51) gives a value of ~3.5mm. Although the particular details of how my own pupil behaves is still unknown to me, these results go some way to explaining why the Zeiss Terra(with an exit pupil of 3.13mm) pulls ahead of the Leica (with a smaller exit puipl of 2.5mm)under these conditions. And gathering more light means that I can discern finer details in many dull or dimly lit scenes of extended objects using the larger 8 x 25 glass.
I intend to investigate this phenomenon further by taking measurements of the luminance under differing lighting conditions and relating this to what my eyes discern using these small pocket glasses. Accordingly, I have ordered up a luminance meter to perform these experiments, and will report back on this matter at a later date.
A New Colour Variant of the Zeiss Terra Pocket Now Available!
Remember how I described the Zeiss Terra 8 x 25 as having rather garish colours that might attract unwanted attention from the members of a crowd at sporting events? Well, I just recently discovered that Zeiss are now offering the Terra in not one, but two colour schemes. As well as the black, blue and grey livery on the original Terra, they now offer it in black, white and blue. And here's what it looks like: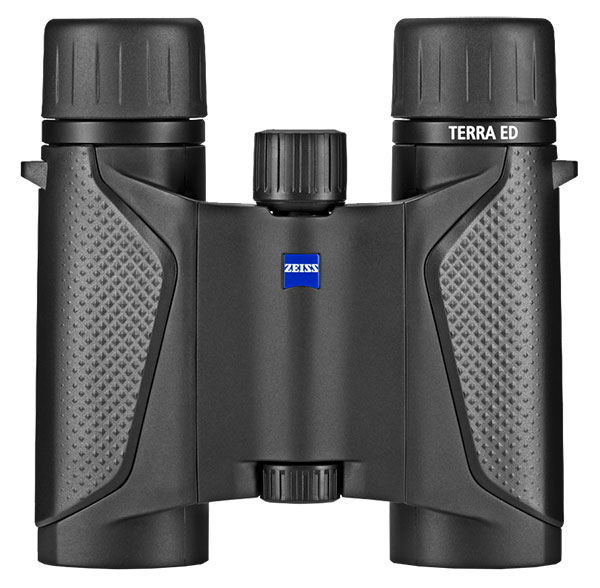 Maybe someone from Zeiss was reading my blogs lol?
I think it's rather handsome; don't you? Source here.
To be Continued………………………….