A Work Commenced March 13 2023
After enjoying a variety of Japanese and German Porro prism binoculars, I began to hanker after a classic Russian glass to explore their optical quality and ergonomics. A number of names crossed my radar including Komz and Tento. That led me to do a search on fleabay for instruments that might whet my appetite and it wasn't long before I came across an intriguing Tento-branded 7 x 35. It was going for an unbelievably low price – just £25 plus £8 shipping – from a gentleman down in England. The unit looked to be in very good condition, with a clean interior and the seller assured me the optics were in good order. So I pulled the trigger and the instrument arrived just a few days later. Meanwhile, I did some research on Tento, which I'll briefly discuss next.
Tento is a Russian trading company that has a long and interesting history dating back to the Soviet era. The company was established in 1968 in the city of Kazan, which is located in Tatarstan, Russia. Initially, Tento produced military optical equipment such as rangefinders, binoculars, and telescopes for the Soviet army. The company's products were known for their high quality and reliability, and they were widely used by military personnel.
In the 1970s, Tento began producing binoculars for civilian use, and the brand quickly gained popularity among nature enthusiasts and hunters. The company's binoculars were known for their excellent optics, robust construction, and resistance to extreme temperatures and humidity, making them ideal for use in harsh environments.
In the 1990s, following the collapse of the Soviet Union, Tento faced many challenges, including a loss of funding and a decline in demand for military equipment. However, the company continued to produce binoculars and other optical instruments, and it gradually expanded its product range to include spotting scopes, night vision devices, and other specialized optical equipment.
Today, Tento is still based in Kazan, and it continues to be a leading manufacturer of optical equipment in Russia. The company's products are sold in Russia and in many other countries around the world, and they are highly regarded for their quality, durability, and affordability.
First Impressions
The instrument arrived well packaged inside a soft case – not the original leather one. I didn't mind however, as if all went well, I wouldn't be storing it inside any conventional case, as I shall explain later. The binocular apparently was originally sold with orange filters, which would have been kind of groovy, but this one didn't unfortunately. The binocular was manufactured in 1988, so near the end of the Soviet era, based on the small circle near the serial number found on the front end of the instrument.
The instrument has a really solid feel and has quite a bit of heft to it – 700g in fact -but it handles very well. I'd definitely describe it as 'Spartan.' I was able to confirm that the optics were extremely clean with no fungus or haze inside the instrument.
The instrument appears to be multicoated as far as I could tell, but looking at the objectives in daylight revealed a possible uncoated element somewhere in the optical train. The outer objective lens element also had a pale amber coating, a common feature on many Russian binoculars from this era. The objectives are very nicely recessed – surely a good thing to protect against the elements and stray light.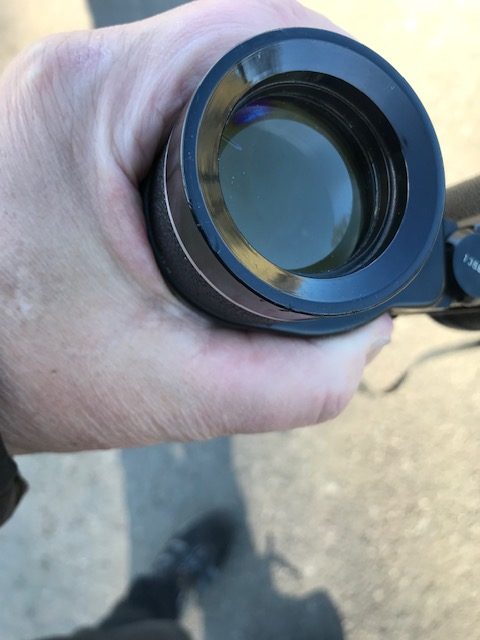 The rubber eyecups looked in good condition, but I immediately treated them with some Armor All to protect them better. After looking through the instrument, I found I couldn't see the field stops so I folded them down and hey presto – I could now engage with the entire field!
The focus wheel is made from a tough plastic material, but I was really impressed with its smoothness. It's very easy to turn and boy is it fast, taking less than one revolution to go from closest focus to infinity. The right eye dioptre compensation is achieved by turning a ring under the right ocular lens. It too moved smoothly and holds its position well.
Optical Tests
In a previous life as a telescope tester and reviewer, I spoke of my admiration for Russian optics in the form of the Tal 100R(Novosibirsk), a classic 4 inch f/10 achromatic glass which produced sharper images of the Moon and planets than a 4-inch TeleVue Genesis Fluorite F/5. I've also owned and enjoyed its larger sibling, the Tal 125R 5-inch F/8 refractor, so I was hoping that some of the same magic would rub off on this robustly designed binocular. I wasn't disappointed!
The optics for the BPC Tento 7 x 35 were provided by Zagorsk Optical-Mechanical Plant(Zomz), based at Sergiyew Posad, about seventy miles from the centre of Moscow. It's a classic Porro design with oversized, high-index BaK4 prisms delivering a very wide field of view(8.5 angular degrees). The exit pupils are almost perfectly round(see the slight truncation on the right of the pupil) with no stray light or false pupils appearing in either of the barrels. Eye relief is quite generous for an older glass like this. I was able to see most of the field with my eyeglasses on and the rubber eyecups turned down. Internal reflections are very well controlled – a little better, in fact, than a high-quality Nikon Action 7 x 35 I recently put through its paces. Only a few minor ones were seen when I turned the instrument on a bright streetlamp after dark.
Optically, the Tento BPC 7x 35 delivers a delightfully sharp image in the centre, with a decent-sized sweet spot covering about 60 per cent of the field. Be sure to check out the several owner testimonies posted in Preamble 1 above. The instrument delivers a slight yellow tinge which I really like! Indeed, I think it adds quite a bit of vibrancy to the images. One reviewer claimed the image is reminiscent of a fine portrait painting and I tend to agree with that description. Glare is well controlled in the BPC Tento 7 x 35 too, including veiling glare. Off axis, the image shows moderate pincushion(positive) distortion and field curvature. I was also able to check collimation by defocusing a bright star using the right eye dioptre. All was well here too. Indeed, I doubt it ever needed recollimation in all its years of service.
I was keen to compare and contrast this Soviet era glass to an excellent Nikon Action 7 x 35(Japanese-made) dating from around about the same time(mid-1980s). Aiming at some moss-laden tree trunks in good March light some 40 yards in the distance I was able to clearly ascertain that the BPC Tento 7 x 35 had a little bit better contrast which brought out slightly more texture in the trunks than the Nikon glass. Greens and browns are especially enhanced in the Russian glass, although the old Nikon offered up a wider(9.3 degrees) and better corrected field of view. On axis, both instruments served up equally sharp images to my eye. In yet another test, I compared both instruments in a low light setting, observing the same tree trunks immediately after sunset. While the result was close, I felt the Nikon delivered a slightly brighter image, which surprised me, as this glass has just a fully coated billing while the Tento was understood to be multicoated. It just goes to show that you can't really judge how bright an image can be based solely on what coatings a binocular is treated to. The Allbinos test of the larger Tento 10 x 50 sibling revealed a light transmission in the low 70s per cent, typical for a quality glass from this era. They also noted that its poor transmission at shorter wavelengths readily explains why it gives a warm yellow tint. Some folk will be put off by this but I find it quite endearing. What's more, it will never be enough to misidentify a bird – even the most variegated – in actual use.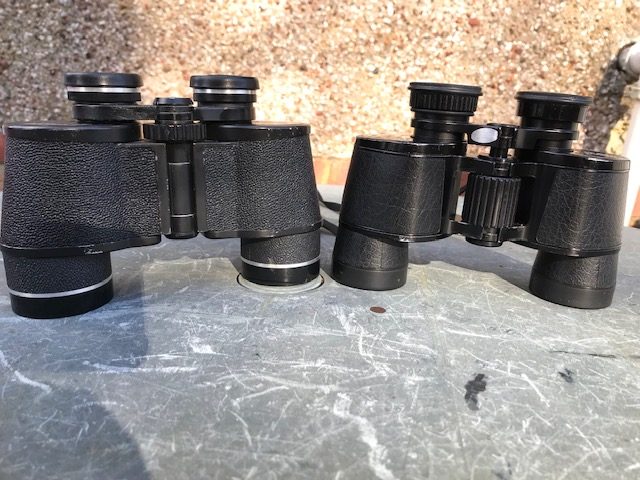 Looking at both the Nikon Action and Tento BPC 7 x 35, the reader will note their very similar dimensions. As I've discussed in my review of the Nikon Action, its great optical performance is the result of using large, high-quality prisms as well as having a longer focal length than most other 35mm Porros on the market. Could the excellent optical performance of the Tento BPC 7 x 35 be attributed to its longer than average focal length also? Maybe so!
Notes from the Field
The Tento BPC 7 x 35 offers up a very relaxed viewing experience owing to its 7x magnification. Depth of field is also fantastic in this glass, minimising the need to re-focus on targets beyond a few tens of metres in the distance. Close focus was measured to be 4.39m. The fast focus wheel works brilliantly in this binocular, allowing the user to rapidly refocus when the need arises. This makes it especially useful to birders. As I spent more time with this classic Soviet era glass, I became acutely aware of why it performs so well after all these years. They were built for the harsh Russian environment. Taking advantage of a long and unseasonably chilly March cold snap, I tested how the focuser would behave in the late evening as the temperatures fell below zero outside. I had already extracted any water vapour inside the glass by storing it in one of my desiccant-filled Tupperware containers – a simple way to keep all of my Porros from fogging up internally. I can report that even after a couple of hours in these conditions the tension of the focus wheel hardly changed at all.
Consolidating my Love of Porro Prism Binoculars
I've thoroughly enjoyed test driving this charming glass from behind the Iron Curtain. It works flawlessly and delivers really excellent images. Let's just say it's the best £25 I've ever paid for a binocular! But it has also consolidated my belief that roof prism binoculars are just not good value for money – and some of them are just highway robbery. To think you'd have to shell out several hundred pounds to get a roof prism model to deliver images of comparable quality leaves a bad taste in my mouth. No more roofs for me I'm afraid.
I would recommend this binocular to anyone looking for a fine, robust glass that has already stood the test of time and will likely last another generation if looked after carefully. To render it fog proof, prepare a watertight Tupperware container filled with 20 x 10g sachets of activated silica gel. Make sure to rack out the focuser a little to ensure efficient diffusion of gases. Store your instrument inside this container at room temperature for about four days(revised down from 7 days). It will draw out any remaining water vapour inside the chassis, so it can't fog up inside. And if you continue to store it in this way, it will remain so indefinitely.
Thanks for reading!
Dr Neil English offers a refreshingly new and revised take on the binocular market, based on first-hand field experience. Choosing & Using Binoculars: A Guide for Stargazers, Birders and Outdoor Enthusiasts, hits the shelves in the fall of 2023.