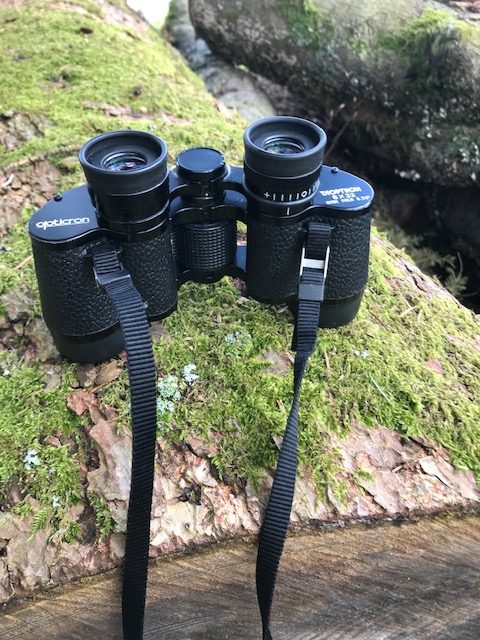 A Work Commenced April 16 2023
In a previous blog, I briefly described the ergonomic and optical performance of two classic compact Porro prism binoculars – a Carl Zeiss Jenoptem 8 x 30 and a 30-year-old Japanese-made Opticron Dioptron 8 x 32. The little Zeiss was gifted to a former student of mine, who has since become a keen birder. The Dioptron remained in my stable, but I hadn't used it very much. However, after sampling some of the KOMZ 8 x 30s, I dusted down the Dioptron to see how it compared with these Russian glasses. The experience rather shocked me. The Dioptron was in an entirely different league optically and somewhat better ergonomically than the Russian instruments. Indeed, the experience made me realise just how good the little 1990s vintage 8 x 32 Dioptron really was.
When it first arrived, I had not really examined its interior thoroughly to see if it needed cleaning. However, after carefully looking inside, I was surprised to see that it did have a thin veil of haze and the beginnings of a fungal infestation which fell below my radar. So I decided to have it professionally serviced. I phoned Tony Kay at OptRep, who had done a great job cleaning up my Nikon E 10 x 35 WF, and asked him if he'd be willing to clean up the little Opticron Dioptron. He said yes, and gave me a very reasonable quote. So off it went to his workshop in Selsey, on the English south coast. A couple of weeks later, I got it back, all cleaned up and looking like new. The optics were de-stained, cleaned, set and collimated. The hinges of the instrument were also freed – all ready to enjoy a new lease of life.
I thoroughly recommend OptRep. The service is super quick, and the workmanship second to none. All that remained was to give it a good clean with an Armor All wipe to condition the soft rubber eye cups and the chassis leatherette.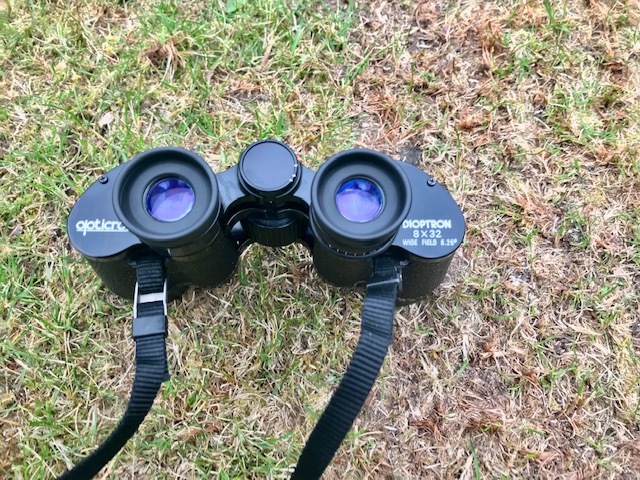 The view was terrific: very wide(8.25 degrees), bright, extremely sharp with a great big sweet spot. It was a little brighter than I remembered it prior to dispatching. The slight yellow tint was still there though; a common feature of good optical glass from this era. There was also a bit of glare when pointed towards strongly backlit scenes but I felt it was perfectly acceptable. All in all, I was thrilled with its performance after I spent the afternoon glassing birds at two of my local patches. Here, I'd like to flesh out some more details concerning its ergonomic and optical design, as well as disclosing more information about other incarnations of this instrument I've discovered since first acquiring it last year.
Ergonomics:
This has got to be one of the lightest and smallest 8 x 32 Porros in existence, weighing in at 494g without the strap – that's 10 per cent lighter than the Nikon E II 8 x 30 and almost as light as the Swarovski CL Companion, the Opticron Traveler BGA ED 8 x 32 and Nikon Monarch HG 8 x 30 high-performance roof prism binoculars.
The dioptre compensation ring, located under the right ocular lens has clearly delineated markings to quickly enable the user to set and remember his/her desired settings. However, it does tend to move, but that was easily remedied by affixing a very tightly fitting o ring around the bottom of the eyepiece that increases the frictional torque considerably. Since doing this, I'm delighted to say that the dioptre setting hasn't budged a millimetre. What's more, it's nicely colour matched with the rest of the chassis so you'd hardly notice it's there unless you point it out.
The eyecups give some eye relief but not a great deal. You can better access the field with glasses on by folding them down but even so, it's difficult to engage with the entire field. That said, I had absolutely no problem seeing the entire field without glasses, even with the rubber cups extended. The central focus wheel is an entirely different design to the Japanese Nikon Es. For one thing, it's much larger and considerably faster. Just half a turn clockwise brings you from closest focus – measured at 2.56m – all the way to infinity and a little bit beyond.
The chassis is mostly composed of high-quality machined aluminium with only a few plastic and rubber parts found on the bridge and around the objectives. Having rubber surrounding the objectives is a good move, as it won't scuff the paintwork like it does on the metal-rimmed Nikon E objectives. And unlike my Nikon E II 8 x 30, which cannot reliably stand upright on a flat surface, the Opticron Dioptron can!
The instrument feels great in my medium-sized hands. The leatherette provides excellent grip and there is ample room for your fingers to engage with the focus wheel, either from the top or, indeed, from the bottom. It has a beautiful, high-quality feel about it. Indeed, you instantly get the feeling you're handling a durable, high quality optical instrument.
The binocular is fully multicoated with the best coatings available at the time. The objectives have a strong blue tint in broad daylight, while the eye lenses display a purple-green bloom. Coatings have improved somewhat from the 1990s though, but the ones applied to this instrument are more than adequate for use in most lighting situations, but maybe not my first choice on dull winter days or at dawn and dusk, where newer coating technologies clearly excel over older treatments.
Optics
The Dioptron shows some internal reflections when pointed at a bright streetlight but they are fairly weak and not especially consequential. The exit pupils look good with minimal levels of peripheral light around them.
Optically, the view is very impressive; sharp, nice contrast, and commanding a large sweetspot. The instrument shows some mild pincushion distortion and field curvature out near the field stops as well as lateral colour. The field stops are beautifully delineated in the Dioptron, something I've really come to appreciate in binocular optics. This nifty little 8 x 32 Porro delivers terrific 3D impressions of the landscape, a feature that continues to endear these instruments to me. Comparing the Dioptron to the Nikon E II 8 x 30, I judged their central sharpness to be very comparable. The latter serves up a brighter image with more contrast though, and its superior coatings were better at suppressing glare. The Nikon E II has a noticeably wider field – 8.8 degrees versus 8.25 degrees – but the Dioptron is plenty wide enough for most applications. In addition, the Nikon E II has a significantly better close focus than the Dioptron(1.96m versus 2.56m).
I think I prefer the focuser on the Dioptron. It's super smooth, gliding with all the gracefulness of the innards of a Swiss watch. Images snap to an absolute focus with no ambiguity. This renders it an excellent birding glass in good light. As the light fades in the evening, however, the superior light transmission of the Nikon glass is easy to see. Its images are significantly brighter. Again, these comparative tests are not meant to portray the Dioptron in a negative light, only to show how it's a product of its time. Optical coatings have improved since the 1990s and the Nikon has some of the very best available.
As soon as it arrived back from its restoration, I took it off for a saunter to one of my local patches. I was lucky enough to register my first sighting this season of a group of Swallows. At first, I was overjoyed to see just one, its distinctive fork tail gleaming in weak Spring sunshine, perched high in the trees near Culcreuch Pond, resting from its long sojourn from North Africa. But as I scanned the high branches of a few other trees in the vicinity, I caught sight of several others. Some of them took to flight, gliding low over the fields with breakneck speed. What a thrill!
On another occasion, I brought both the Dioptron and my small Zeiss Terrra ED 8 x 25 pocket binocular into the west end of Glasgow to visit my in-laws and to do a spot of urban birding. I'm glad I brought both along, because it gave me an opportunity to compare both. The Zeiss is a nice pocket glass to be sure, but it can never approach the huge step-up in performance of a high-class 8 x 30. Size-wise, there's not an enormous difference between these instruments – both could pass as pocket binoculars – but from the point of view of sheer performance, the Zeiss didn't even come close!
When the Dioptron was first marketed in the UK, it commanded a price tag of about £120 back in the early 1990s. But there's an interesting twist to the story of this model. The gentleman I bought the Russian Tento 7 x 35 from, Phil Grimsey, informed me that he had acquired a Japanese-made 8 x 32 from a charity shop going under the name of Panorama Puma. It was probably made for the German market.
The chassis was identical to the Dioptron as were the antireflection coatings applied.
This suggests the instrument was rebadged under several names and was not exclusively developed by Opticron. That said, Phil is also chuffed to bits with his own lucky acquisition.
So, was it worth the restoration fee? You betcha!
I prepared a sarcophagus for the Dioptron; a simple plastic Tupperware container filled with silica gel desiccant, to dry out its interior and keep it dry, rendering it functionally fog proof so that it can work in all weathers.
Thanks for reading!
Neil English has included a chapter on classic binoculars in his new book, Choosing & Using Binoculars: A Guide for Stargazers, Birders and Outdoor Enthusiasts, which hits the shelves in the fall of 2023.