For more than a generation Swarovski Optic has been supplying premium quality sports and nature optics to an international customer base. Beginning back in 1935 when Wilhelm Swarovski started manufacturing small 6 x 30 binoculars, his business expanded greatly during World War II and by 1949, Swarovski launched itself as a separate company, manufacturing very high quality binoculars, spotting 'scopes and rifle sights at their large facility at Absam, Austria. Employing more than 800 employees, Swarovski has a turnover of in excess of 100 million Euro with 90 per cent of its revenue generated from exports.
Swarovski produce a very extensive range of premium quality binoculars for birders, hunters and nature enthusiasts, ranging from small pocket-sized instruments(8 x 25) right up to large 56mm aperture instruments for specialised, low light work.  Having recently re-kindled my interest in using binoculars, I have had the privilege of enjoying two Swarovskis, an older EL 8.5 x 42mm (owned by my coalman, Graham) and a first generation EL Range 10 x 42mm, owned by a neighbour of mine (Ian), both of whom are keen hunters. In this blog, I wish to discuss the latter instrument in some detail.
Introduced in 2011, the EL Range 10 x 42mm features top-notch optics and state-of-the art laser-based range-finding technology that enables the user to accurately estimate distance to any given distance between about 33 and 1500 yards with an error of just +/- 1 yard. In addition, its built-in inclinometer allows angular measurements up to 90 degrees, thereby covering every angle compensation you are likely to use (especially when hunting in mountainous regions). Powered by a CR2 lithium ion battery, up to 1000 measurements can be made before replacing it. The second generation of the EL Range series was introduced in 2015, which offers some improvements over the original, including faster estimation of distance.
Ian very kindly allowed me to borrow his first-generation EL Range 10 x 42 for a short spell. For my tests, I concentrated solely on the optical and mechanical performance of the instrument, which were conducted over the space of 24 hours between July 22 and 23 2019, which included indoor, bright daylight, dusk and night-time observations. For those of you who wish to learn more about its ranging capabilities, check out this link.
Mechanical design: The EL Range 10 x 42 weighs in at about 32 ounces. This was surprising given the presence of two prominent arches placed on the underside of the instrument. These apparently increase the stability of the instrument when making hand-held distance estimates.
The 10 x 42 Range has individually tunable eyepieces with the dioptre compensation is accessed by pushing up the ring at the base of each ocular. The twist up eyecups are a work of art, plain and simple. Beautifully made, they click up and down effortlessly and hold their positions even when considerable downward force is applied. They can also be unscrewed if they need to be replaced or to access the ocular lenses for cleaning.
The focus wheel is also a joy to use. With very finely machined threads, focusing from nearby to far away objects is effortlessly achieved via its buttery smooth motions.
Like all other mid-sized binoculars by Swarovski, the instrument has an open bridge design which is very stable and easy to balance and the well-designed hinge allows for quick and easy adjustment for my optimum inter-pupillary distance. The optics are housed in magnesium barrels to reduce overall weight and are overlaid by a tough, protective rubber overcoat that is very easy to grip. The optics are hermetically sealed and nitrogen purged to prevent any internal fogging. The instrument is water resistant to depths of up to 13 feet.
Overall, I would rate the mechanics on this binocular to be of exceptionally high quality.
Optics: Just like its mechanical excellence, Swarovski spare no expense incorporating the very finest optics inside their binoculars, and by that I mean the highest quality optical glass(which includes extra-low dispersion components) and state-of-the-art anti-reflection coating technology. The prisms are of Bak-4 Schmidt-Pechan design, which require phase coating to optimise light transmission. Swarovski like to think of the entire optical system acting as one collective unit which they call "Swarovision." The light transmission is 91%( a figure derived from their technical data).

The objective and ocular lenses immediately exposed to the air are also treated with a proprietary coating that repels water, oil and grease. They also will not fog up on cold days if one accidentally breathes on them.
After I had made adjustments to the dioptre settings for my own eyes, I excitedly began tests on the 10 x 42 during bright evening sunshine. Examining a range of targets including the top-most boughs of some nearby conifers, rooftops and the broad tree trunk of an old Horse Chestnut tree, I was most impressed at the crystal clear clarity of the images. Comparing these to my own Barr & Stroud Savannah 8 x 42 binocular, which gives a 'warm' tone, the Swarovski was more neutral toned in comparison and ever so slightly sharper to my eyes. But what most impressed me was that the image was also a little brighter than my 8 x 42! This became more apparent as the sun began to set and dusky twilight ensued.  If the Swarovski was transmitting 91 per cent of the light collected to the eye, the Savannah was probably transmitting something more like 85 per cent.
The field of view of the Swarovski is 6.4 degrees, the images being perfectly flat across the entire field thanks to specially designed field flatteners in the ocular lens assembly. This makes the field stop stand out that little bit more than in my 8 x 42 wide-angle Savannah (sporting an 8.2 degree true field). Examining the edge of a telephone pole some 30 yards in the distance revealed a sliver of chromatic aberration in the Savannah but I could discern none at all in the Swarovski.
Edge of field correction was also superior in the Swarovski. Where the Savannah clearly revealed some pin-cushion distortion at the extreme edge of the field, the Swarovski revealed little or none in comparison.
Going indoors for a while, waiting for the sky to get maximally dark, I conducted my iphone torch test to see how both instruments would compare in regards to their ability to suppress internal reflections. This is a severe test on any optic. I darken the room and turned my iphone torch on at maximum brightness. Then, viewing from a comfortable distance, I aimed both instruments at the light to see what was what. A while back, I had tested the Barr & Stroud Savannah 8 x 42 (and the 10 x 50 Sierra made by the same firm) and noted how well they suppressed glare and internal reflections. To my delight, I found both the Swarovsji and the Savannah to reveal broadly similar results; both units very aggressively blocked annoying internal reflections! Note that this test is far more severe than pointing the instruments at a bright Moon. Indeed, some instruments(including some top of the range models) that passed the Moon test faired considerably worse in this more discriminating test.
Star testing and an encounter with a waning Gibbous Moon:
At this time during the summer, the twilight which dominates during late May, June and the first half of July begins to give way to significantly darker skies. So around local midnight, I ventured out again to test the binoculars on some starfields poking through some cloud banks that were beginning to break up as the night progressed. lying on my recliner, I aimed the binoculars on some star fields in Lyra and Cygnus. The view through both the Swarovski and the Savannah was excellent, with the former offering a flatter field from edge to edge. Contrast was excellent in the Swarovski as well, and the stars presented as tiny, sharp pinpoints. It also reached that little bit deeper than the Savannah as one would expect in comparing an 8x optic to a 10x optic of the same aperture. The Savannah, although possessing a wider field of view, also showed some distortion of the stellar images at the edge of the field.
At around 00:45 UT, a bright waning gibbous Moon was rising in the eastern sky and had gained enough altitude to see it from my back garden. Both instruments presented very pleasing views, but with the subtle differences in colour tone and image scale. The Savannah produced a warmer tone with a very slight yellowish tinge in comparison to the Swarovski, which was correspondingly cooler and a more neutral white appearance. The low altitude brought out the usual atmospheric refraction in both instruments. In the Savannah, a very slim sliver of blue was observed around the edges of the Moon, while in the Swarovski the same sliver was more yellow than blue. The greater magnification of the Swarovski was immediately apparent however, where it presented significantly more in the way of crater details than the lower power Savannah.
Before packing up, I enjoyed watching the fast moving clouds passing near and over the lunar image in both instruments, creating a wonderful dispaly of natural colour. It was good to get out and do some observing in a reasonably dark sky once again.
Now, I suppose you are wondering whether I would recommend the Swarovski to a prospective buyer, especially since I do not, in general, have a tendency to use or promote premium equipment. I'm going to say " yes" with this one, for reasons I would like to outline here.
It boils down to how much you intend to use the instrument. For astronomical telescopes, most folk get to set up and use their gear maybe once or twice a week(if you're especially keen)  for a few hours at the most, though I suspect that this is probably the exception rather than the rule. If you are a keen glasser however, you will likely use binoculars far more frequently and for long periods of time. The Swarovski is a beautifully made, precision instrument that will endure knocks, extremes of weather and much more besides. It comes with a very nice quality case and  carrying strap and the company stands behind many innovative accessories that will only add to your pleasurable experiences.  It will often be your only companion in the great outdoors. Without a doubt, a premium binocular like this will hardlly ever fail, so you are investing in a durable, high- quality instrument that will grow as your interests grow and diversify.
I can say all of this with absolute confidence. Why? Because within a couple of days of testing both instruments disaster struck with my Savannah.
If you recall, I bought the Savannah second hand from an ebay seller. It worked flawlessly even with continued use every day, for many months. I was intending to bring it along with me to southwest Wales for a family vacation, when the dioptre ring developed a fault. Although it still worked quite well, I found I had to turn it to the extreme end of its travel before getting a well focused binocular image! The failure upset me, but thank goodness, the story had a silver lining.
An Act of Generosity
I contacted Optical Vision Limited(OVL), the company that now owns Barr & Stroud, as well as other small players in the mid-priced binocular market. I explained the problem to them, at which point they asked if I could provide proof of purchase. I then explained to them that I actually bought it used and that I just assumed that the 10-year warranty was transferable to new owners. Unfortunately, OVL informed me that the warranty was not transferable. However, they were aware of my long-standing work for the astronomical community and kindly offered to honour the warranty. Well, the relief on my face was all too clear to everyone and I accepted their gracious offer. I dispatched the instrument by courier to their depot in Bury St. Edmunds, Suffolk, just prior to setting out on our 400 mile journey to Pembrokeshire.
While we were in Wales, OVL contacted me to say that they would be sending me a new binocular to replace the old one and asked if I would choose a day for the courier to deliver the instrument. I arranged to have it delivered the day after our return home.
Sure enough, the new Savannah 8 x 42 arrived in perfect nick. Excitedly, I opened the box to find the brand-new instrument carefully packed inside. I had my new Savannah and it worked perfectly!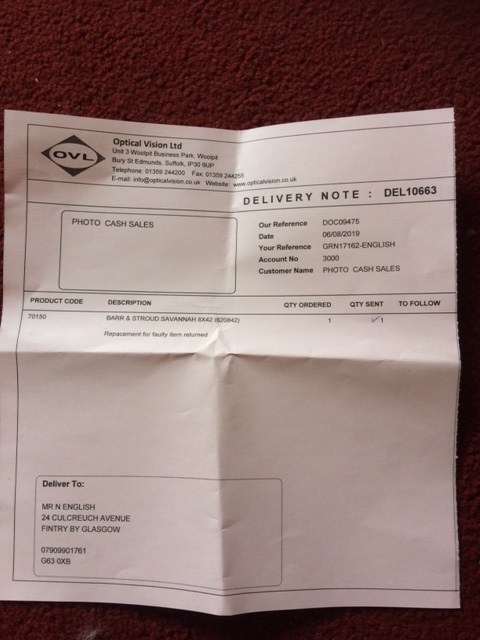 After a year of considerable grief in my professional career, something good finally happened!
Thank you so very much OVL!
What the experience taught me
I once purchased a pair of perfectly serviceable 10 x 50 binoculars for $30 at an electronics retailer. These binoculars showed that if you choose carefully, you can get good optics for relatively little money. So what do you get if you spend ten times as much? In terms of the actual view, not as much as you might expect. Yes, more expensive binoculars have better optics that will deliver more light to your eyes and sharper images, but the difference is not night and day. What the extra money does buy you is mechanical quality. Expensive binocuars can withstand the inevitable bumps  and knocks of everyday use without trouble, and having focusing mechanisms that are sure and precise.
Gary Seronik, Editor of Sky News and former Sky & Telescope columnist and author of over 200 articles under Binocular Highlights.
This quote from Seronik's book, Binocular Highlights (2nd edition) is very true. In my case the Savannah binocular (mid-priced in the scheme of things) gives you about 90 per cent of the optical performance of the Swarovski. Yes, the latter is definitely the better instrument, but it is the mechanical design and not the optics where it especially excels. That said, I have become very fond of the Savannah, as it feels right in my hands, and punches well above its weight. I don't know how the fault with the dioptre ring developed but what I can say is that I will be keeping a very close eye on it. And if any issues arise with it again, you'll be the first to know!
I am very grateful to Ian for allowing me to test the 10 x 42 EL Range. I now know why he spent so much money to acquire one!
Neil English's new book, The ShortTube 80: A User's Guide (267 pages) is now published.